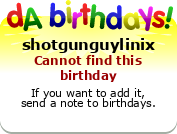 Well today is my Birthday!!! (well almost as I am writing this)

Although one bad thing happened the day before my birthday. Someone on campus jacked my 64 gb iPod along with my Beats Earbuds I got last year.........

However, I am getting the new 5th Generation iPod for tomorrow but I am probably going to get it in a month or so.
So yeah, that's it.

(I notice I only post journals once a year lol)